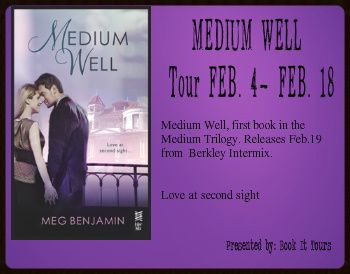 I absolutely LOVE the Konigsburg Books, what made you decide to write about murder and psychic abilities?
I've always been fascinated by ghosts and ghost stories. I wanted to try something different from the contemporary that I've done up to know, and I love paranormal, so it seemed like a good fit. Although the Medium Trilogy does have darker elements than the Konigsburg books, there are also some similarities. They're both set in Texas, for one thing, and they both have a certain comic side because, well, so do I.
When did you first know you wanted to become an author?
I wanted to write from the time I was in elementary school. I've always loved to read, and I started writing stories early on. I taught for a lot of years, and did a writing that was related to that, but it wasn't fiction. Finally, I just decided to try writing romance because romances were what I loved to read. A decade and a lot of work later, I'm doing what I love!
What is your favorite book (or genre) to read?
I don't think I can pick just one. I love historical romance, like Loretta Chase and Mary Balogh and Sherry Thomas, along with contemporary and romantic suspense (I started reading romances with Linda Howard and Elizabeth Lowell). I also read mysteries that aren't strictly romance, particularly those by women like Dana Stabenow and Jane Haddam. And as I said, I get a kick out of a good paranormal, like Eve Silver and PG Forte, as long as I don't have to keep track of too many unpronounceable names!
What's coming up next?
This is kind of a busy year for me. I've got the Medium Trilogy coming out from Berkley InterMix—Medium Well on February 19, Medium Rare on August 20 and Happy Medium on December 17. Then I'm part of the Promise Harbor Wedding quartet of novels from Samhain, along with Kelly Jamieson, Sydney Somers, and Erin Nicholas. These are four linked novels that all begin with the same disastrous wedding. My novel, Bolted, features the maid of honor who takes a one-week vacation to avoid telling her mother about her own divorce. Hijinks ensue. Bolted will be released on April 2. And I'm working on another Konigsburg book, this one about Texas barbeque.
The Medium Trilogy takes place in one of the most historical and romantic neighborhoods in San Antonio–the King William District.
Three Ramos siblings, Danny, Rose, and Ray, all have King William connections. Danny sells historic homes at Vintage Realty. Rose lives in a King William mansion she inherited from her grandmother. And Ray is renovating another mansion so that he and his partner can flip it for a profit. But all three have a hidden talent–so well hidden, in fact that they it's a secret even from them. They're all descendants of the Riordan family: legendary mediums and sworn enemies of the ancient ghosts known as the Old Ones.
Medium Well, the first book in the Medium Trilogy, is Danny's story, released by Berkley Intermix on February 19.
Love At Second Sight
Real estate agent Danny Ramos has always had a knack for selling homes, but when his boss saddles him with a neglected carriage house, Danny discovers that his abilities are more than simple intuition…
On his first visit to the house, Danny is confronted with visions of a violent murder. His assistant, Biddy Gunter, doesn't seem affected, and Danny starts to think he's going crazy—until he gets a visit from his mother, who suggests that Danny's uncanny talent to sell old houses may stem from his family inheritance: psychic empathy.
When Biddy reveals to Danny her own strange dream about the carriage house ghosts, they team up to investigate and discover both the house's dark history and their own unexpected attraction. But as the hauntings turn from unsettling to downright dangerous, Danny and Biddy need to figure out how to rid the house of its ghostly inhabitants, before their budding romance meets an untimely end…
Read an excerpt.
Buy a copy at Amazon or at Barnes & Noble.
About Meg:
Meg Benjamin is an author of contemporary romance for Samhain Publishing and Berkley InterMix. Her books have won an EPIC Award for Contemporary Romance, the Romantic Times Reviewers' Choice Award, and the Holt Medallion among other honors. Meg lives in Colorado with her DH and two rather large Maine coon kitties (well, partly Maine Coon anyway).
Website – Blog – Twitter – Facebook – Pinterest – Email Me – Nine Naughty Novelists
CONTEST: Click below to enter the contest!
Follow the rest of the tour here:
TOUR SCHEDULE: